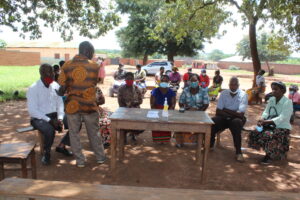 The Catholic Commission for Justice and Peace (CCJP) held a better motherhood interface encounter with different concerned groups found in Traditional Authority Chitukula in Lilongwe.
The meeting focused on the challenges faced by the pregnant mothers when they want to access health facilities at Balang'mbe clinic and Lumbadzi clinic, both found in Traditional Authority Chitukula in Lilongwe.
Many women lamented the abuse by some nurses, especially at Lumbadzi Health Centre. "We are subjected to ridicule and embarrassment at these hospitals, especially at Lumbadzi Hospital," one lady lamented. "We are not well received and sometimes we are told to sleep on the floor while shouting at us," another woman spoke.
On the side of the health centres' representatives, the issue is about understanding the motherhood steps. One nurse explained that good motherhood begins way back before pregnancy. "A woman or girl should have the recommended age to get pregnant. Not only age, but also knowledge of how the body of a woman works," she explained. She however accepted that there might be bad nurses among them. What the mothers should do is to report the careless nurse to the relevant authorities.
The meeting resolved that both parties should take their role seriously; women should follow advise from the health personnel and the health personnel should be able to listen to the women when they come the facilities to seek medical help.
CCJP, through funding from UN Women is engaged in a campaign to end motherhood challenges such as reproductive health and gender based violence in Traditional Authorities, Tsabango and Chitukula, both in Lilongwe.